A well known part of Barcelona, to both visitors and natives, is La Rambla. La Rambla is 1.2 km long street with many malls and shops, with plenty of attractions and colors. This is also an iconic and busy street in central part of Barcelona. La Rambla has many short streets in series with different names, but all together they're called La Rambla. La Rambla is starting from Placa de Catalunya and ends at the harbor.
Maremagnum, constructed in the 1990's, has made the continuation of the Ramblas to the harbor through the wooden walkway into Rambla de Mar. If you have nothing to do in Barcelona, then you should walk into La Rambla and keep walking down the colorful streets, and you get all kinds of fun and entertainment. You will be seeing many kinds of shops, street plays, performances, cafes and restaurants, and some international chains. Since La Rambla is a busy street during the prime seasons, it's also a hot place for the pickpocketers, which has been a serious issue recently.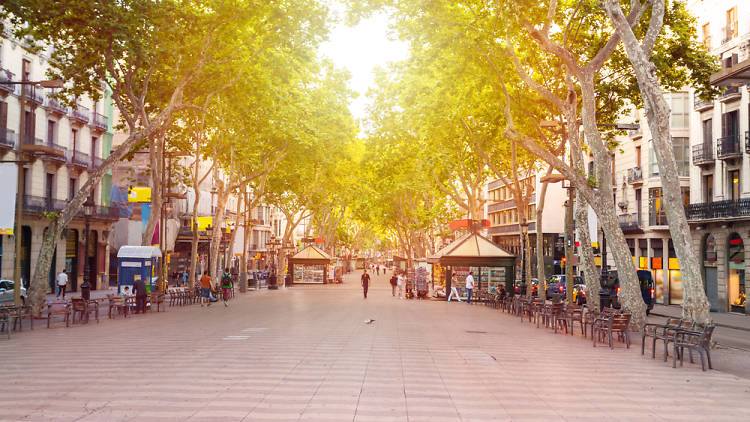 The name La Rambla has its own meaning in Catalan and Spanish which means 'intermittent water flow' and the word has been taken from Arabic word Rambla meaning "Sandy Riverbed". When enjoying the streets down in La Rambla, you will come across Barri del Raval, known as Barriochino, which is the red light district of Barcelona. The area had a bad reputation before but now it is out of that reputation and is normal. Raval is now a good place for spending the evening pleasantly, having many bars and small restaurants.
The best places in La Rambla for shopping are Portal de l'Angel and Portaferrissa. La Rambla may also tire the new comers who no not much about it. There is so much which is difficult to explore in a single day and may end up exhausted. Entering Barcelona, all the visitors never miss the Las Ramblas, the romantic streets of joy filled with art and culture.