Aquarium is located in Barcelona , Catalonia. This Aquarium of Barcelona is very famous all through Europe, having 35 aquariums of 450 different marine species. This aquarium has an 80 meter long tunnel that is underwater. This aquarium is a part of the Aspro Group. It is situated in Port Vell inland from the sea. All the tanks of the aquarium are accustomed for producing the required proper conditions for the living of the flora and the fishes that are of different species.
Entering the tunnel gives a total new experience of life for the visitor, and is a daring adventure venturing through the shark tunnel. Visitors will have the opportunity of catching the sight of a Japanese Conger Eels that are of giant size, luminescent fish, and sea horses. The Aquarium also contains the piranhas of the Amazon River, Caimans and penguins of over 20 species.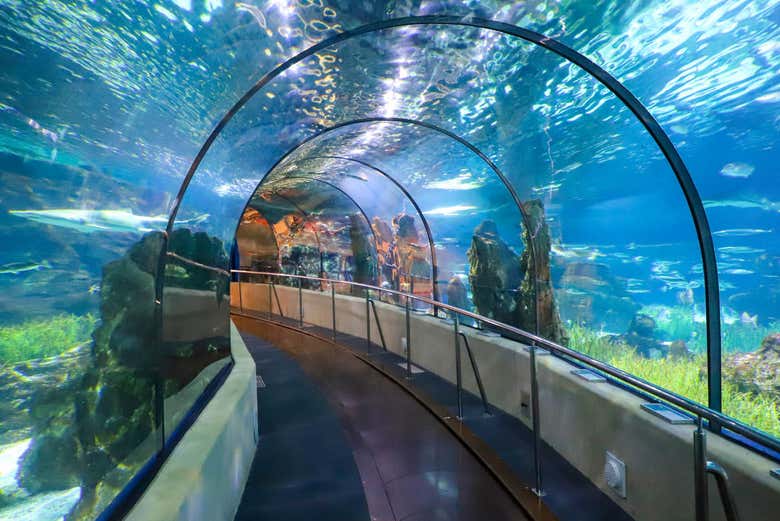 The Aquarium lets children to participate during the feeding hours and gain more knowledge about the evolution in the marine as well as the oceanography. Children will also have the chance of having a glimpse of the exploratory submarine. They also offer education programmes, lectures and all the types of workshops that will be very helpful for the interested people in the field of study. The Aquarium is open all the days during 9.30am to 9pm in regular days and on Saturdays, Sundays, public holidays and in the month of June and September will be kept open till 9.30 pm. Especially in July and August it is open for visitors til 11 pm.
The Aquarium has good transportation facilities with many buses connecting from all parts of the Barcelona city and with Metro lines L3 and L4. The entrance fees to the Aquarium is charged at €16 for the adults, €11 for the children aged between 4 and 12 years, seniors are charged €12.50. There are many tourist offices that guide the traveler to reach the Aquarium. Tourist offices are generally in common touris places of like Plaza de Catalunya, Aerport de Barcelona Terminal A, Pg de Gracia in Catalonia , Jose Lazaro Galdiano in Madrid and also in Spanish Tourist Board in London. The Aquarium also have a website that guides and gives the clear cut information of all what the visitors want.