Spain is the third largest country in Europe, with diversity in its landscapes, the character and the culture which is reflected in the cuisines of the Liberian Peninsula. Geography and the history of Spain together give the most rewarding and the diversely rich food in the world. The topography of the country and the regions adds difference to the living and the taste of the cuisine. Spain is mountainous and drier than rest of Europe. The nation has greater cultural heritage and the ethnicity which is complex.
The history of Spanish food began with the coastal settlements of Greeks, Carthaginian and Phoenicians. The cooking elements of the Moors and the Romans were brought with them, and has lingered the culinary heritage of Spain. Garlic is very popular in Spain, and they love sweet and hot peppers as well as ham. Much of the Spanish foods are enhanced with the golden spice, Saffron, particularly in the world renowned paella. Cooking of the Liberian Peninsula reflects the honey and cumin of the Middle East, and the meat dishes combining the chocolate reflects the American style.
Food in Spain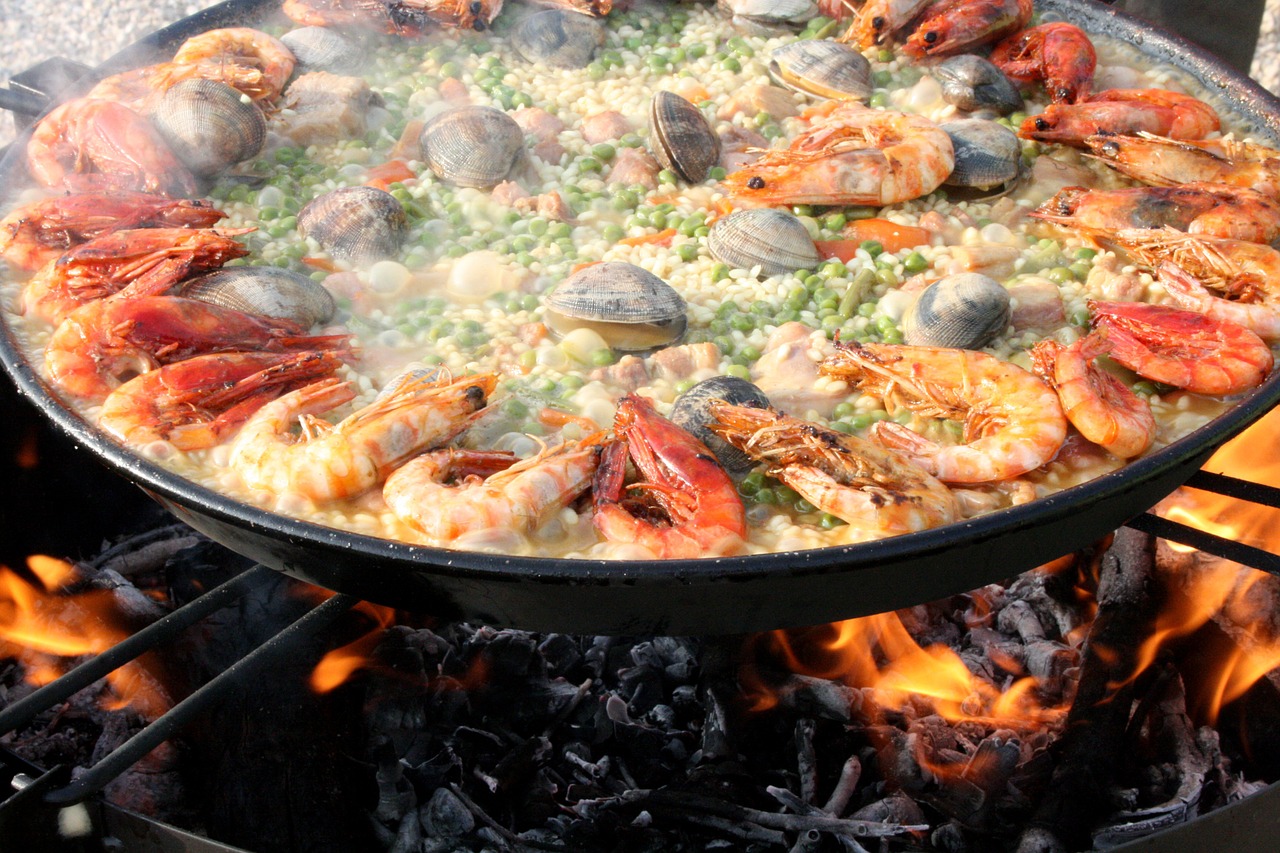 The food might look complicated in their presentation, but are pretty simple to cook and are always filled with fresh ingredients. Typical Spanish dishes contains everything from meat, fish, fresh vegetables, eggs, rice, and beans. Appetizers like tapas of great varieties, is very typical Spanish food. Spanish people's life style is very different with the dining styles and patterns. Spaniards have light breakfast at 8 am and again a mid breakfast at 11 am. The lunch begins with the Tapas at 1 pm followed by lunch of three course at 2 to 3 pm. Tea time is at 5 to 6 pm with merienda, pastries or snacks. Dinner begins with Tapas at 8 pm, three course suppers at 10 pm.
Cooking differs in all regions divided sharply by their dialects, traditions and the culinary's in Spain, though their timing of eating remaining the same. Galicia or the northwestern area has the flavor of its Celtic Heritage with fish and meat. Along the eastern coast Asturias is famous for the bean dishes, fabada, queso Cabrales, strong blue cheese and Hard Cider is the preferred drink. Baseques features the dishes of fish like the garlicky baby eels, fish soups and dried fishes. Cuisines of Cataluna include the mixed seafood Zarzuela, poultry or meats and with the fish dishes that are inventive with a typical combination of fruits available locally. Rice is available in different varieties and with variant of dishes in the tidal flatlands of the Valencia. Paella ranks the list of dishes of the Valencia. Olive trees and the grape vines are from Andalucia in the south.